STC-205AC/DC
4-IN-1 Multi-process: AC/DC TIG + Plasma Cutting
Application:
Pipe
Tube
Pressure Vessel
Stainless Steel Product
Aluminum Ship Repair
Processes:
DC TIG
AC TIG
MIX TIG
Plasma Cutting
MMA(Stick)
Input Power:
1PH ~ 230V ±15%
Amperage Range: 5~200A
Rated Output at 40℃ (104℉):
200A at 10V @60% Duty Cycle
Weight: 23kg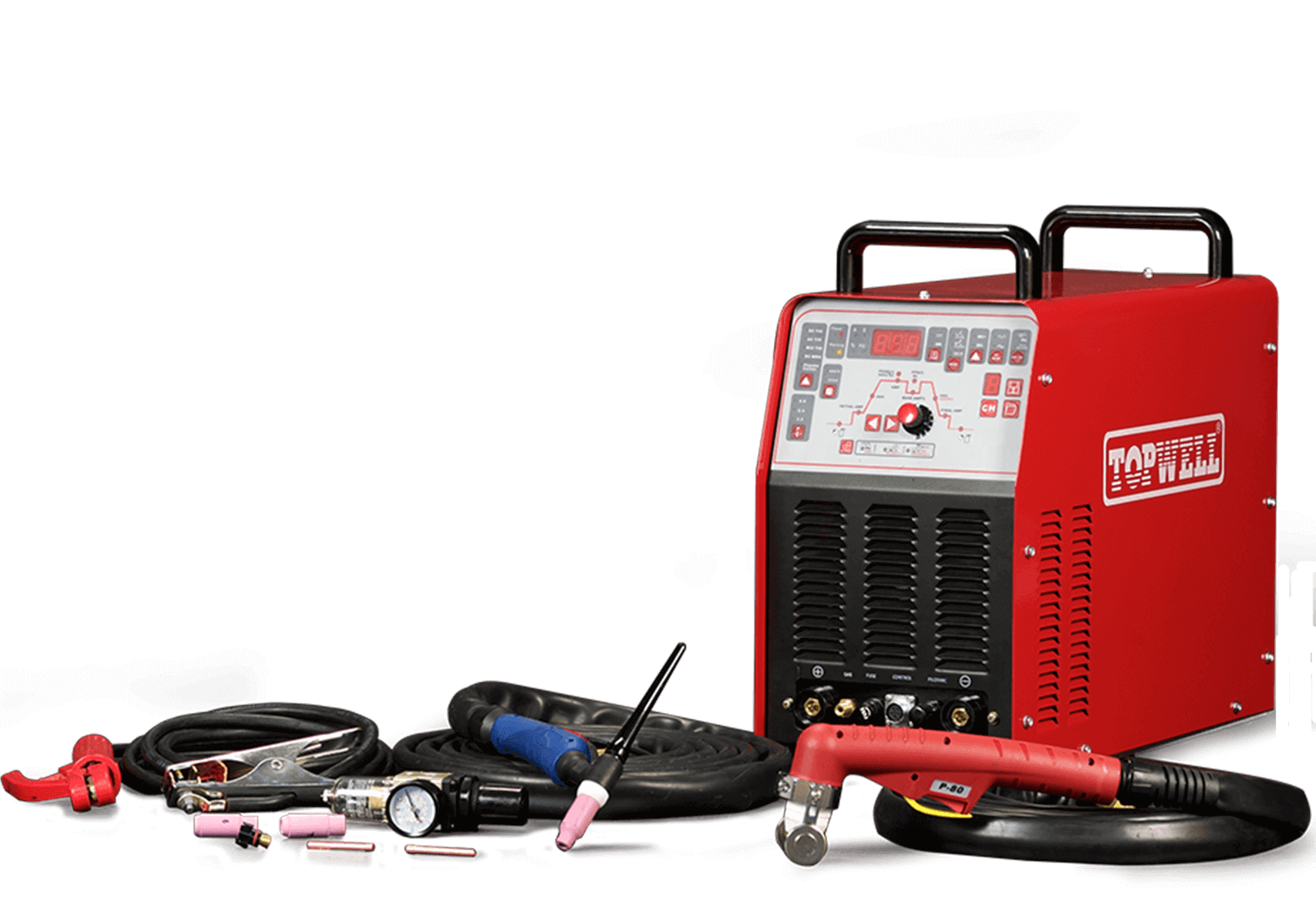 Cutting Capacity
| Capacity | Thickness | Cut speed |
| --- | --- | --- |
| Recommended cut | 8mm | 500mm/min |
| | 13mm | 250mm/min |
| Severance(hand cutting) | 16mm | 125mm/min |
| | | |
Unique MIX TIG
Everybody knows the AC current has a good clearance and DC current gets a good penetration. What if mix the AC and DC?
MIX TIG is TOPWELL's unique technology, it contains AC current and DC current in one duty cycle.

That keeps the advantages and reduces disadvantages from each other. Using the MIX TIG technology gets an excellent arc concentration and can be carried out the excellent welding performance, especially for thick plates.
MIX TIG advantage
Nice weld appearance, deep penetration.

Excellent Arc Concentration.

Substantially reduce the electrode consumption.

Complete AC Waveshape Controls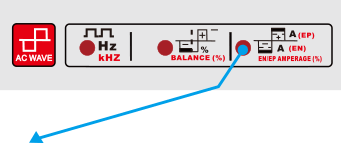 AC Frequency control
Controls the width of the arc cone. Increasing the AC Frequency provides a more focused arc with increased directional control.
Note: Decreasing the AC Frequency softens the arc and broadens the weld puddle for a wider weld bead.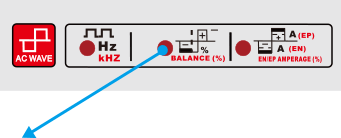 AC Balance Control
Controls arc cleaning action. Adjusting the % EN of the AC wave controls the width of the etching zone surrounding the weld.
Note: Set the AC Balance control for adequate arc cleaning action at the sides and in front of the weld puddle. AC Balance should be fine tuned according to how heavy or thick the oxides are.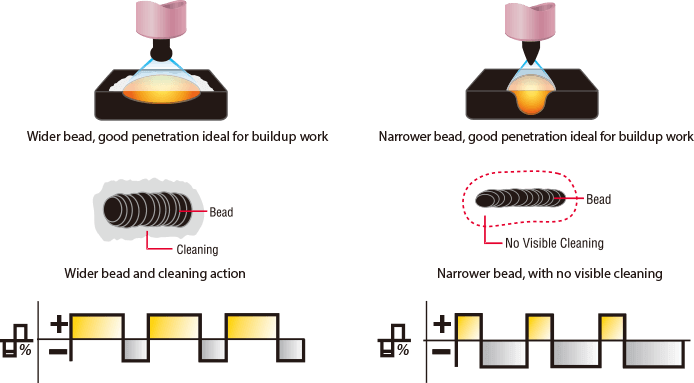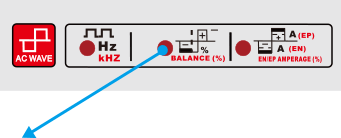 Amplitude Control
Adjusts the ratio of EN to EP amperage to precisely control heat input to the work and the electrode.
Note: EN amperage controls the level of penetration, while EP amperage dramatically effects the arc cleaning action along with the AC Balance control.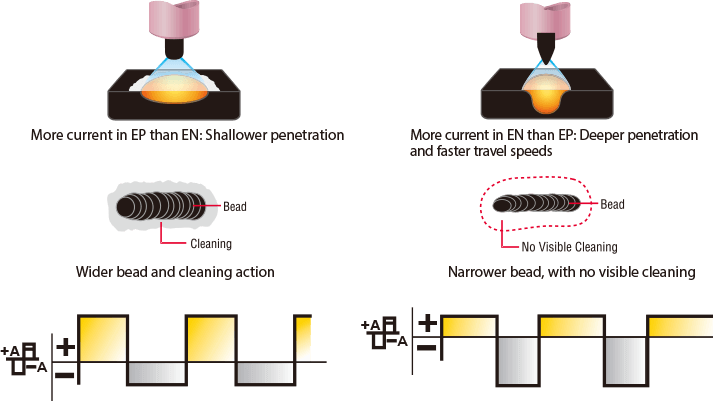 General View Of Control Panel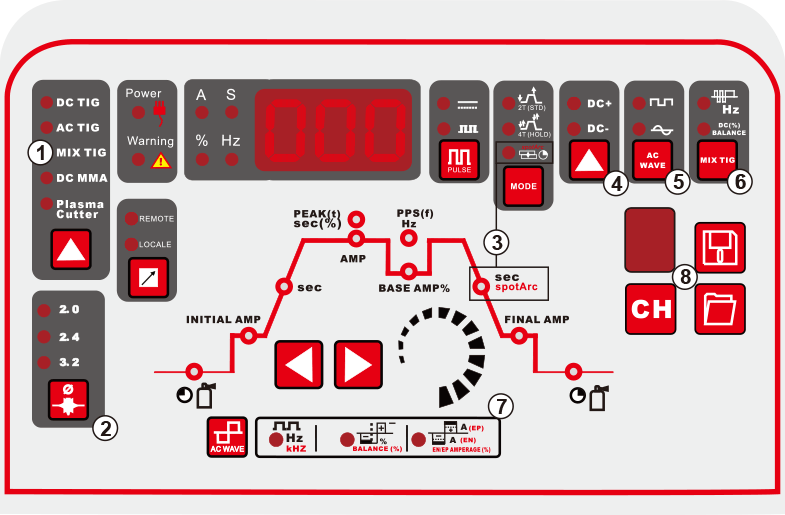 1.MIX TIG:
In a cycle time that mixed with EN/EP output (AC TIG) and EN output(DC TIG).
2.Electrode Dia. selection
3.Spot Welding Mode
4.DC+/DC-
converter output arc-starting of AC TIG process
5.AC Wave Type
6.MIX TIG BALANCE & MIX TIG FREQUENCY
7.AC Wave Control System:
AC Frequency Control
AC Balance Control
Independent AC Amperage Control
LET'S STAY IN TOUCH
Get updates on sales specials and more
FOLLOW US
We want to hear from you!